Custom Closet Benefits
Your closet doesn't only contain clothes; you also have to stuff in other accessories, including bags, ties, scarves, shoes, etc. A regular closet can get crowded in no time, but nothing will ever go out of place if you utilize your space smartly.
Here are the top 5 benefits of a custom closet remodel for your home:
1. An Organized Closet
Finding something you want in a messy closet is no less than a nightmare. But when you opt for a custom closet remodel, you can design it in any way you want. You can find your stuff hassle-free when you have a separate section for each item.
2. Control
The great thing about customized remodeling projects is that you don't have to worry about something not going your way. You'll have total control over the project, and you get to decide how things will be organized in your closet.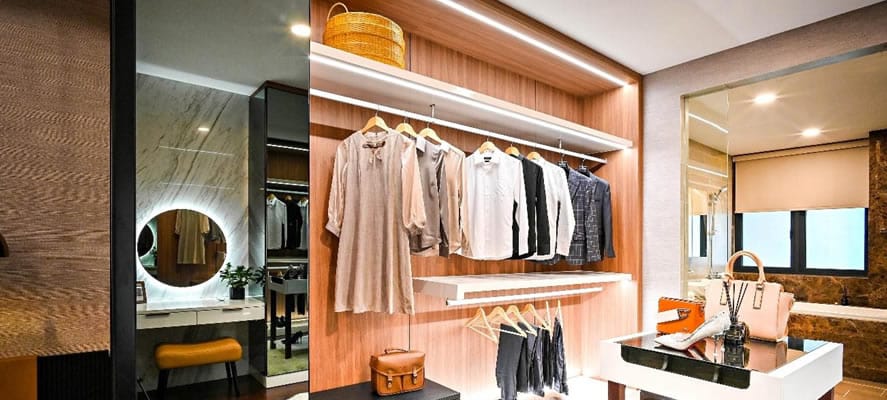 3. Improved Home Value
If you plan to sell your house, your home value can increase with a spacious closet. Homeowners like to buy homes where they wouldn't have to worry about renovations or repairs. If you have a well-organized custom closet, chances are they'd consider buying your house over others, and you might even sell the house for your asking price. That means custom closet remodeling can get you a high return on investment.
4. No More Lost Items
It's easy for many of your stuff to get lost in the piles of clothes within a closet. When you have a custom-built closet, all your clothes and accessories will be in plain sight, and you won't ever have to worry about them getting lost inside your closet.
5. Lighting
You can make your closet as fancy as you'd like. If you have more space, you can even throw in some decoration items, but for small spaces, you can add proper lighting to your custom closet. Adding lights can help you see your clothes better, and it can make your closet look bigger and brighter.
The Bottom Line
As we just discussed, custom closet remodeling has many benefits to offer. You get an organized closet that allows you to access all your belongings without getting lost in the flock of clothes. Plus, you get to choose everything on your own. The best part is that it might even help you increase the resale value of your home in the market.
Get in touch with Ultimate Cabinets and Interiors today to start your custom closet remodel. You can visit their website for more details.