Custom Cabinets
What is the most expensive element of a kitchen renovation? Adding top-notch appliances? Laying down on a fresh floor? No, the kitchen cabinets are the single largest thing. According to Home Advisor, new cabinetry accounts for 29% of the cost of a kitchen renovation, although many homeowners may believe it is just aesthetic.
What Do New Kitchen Cabinets Cost?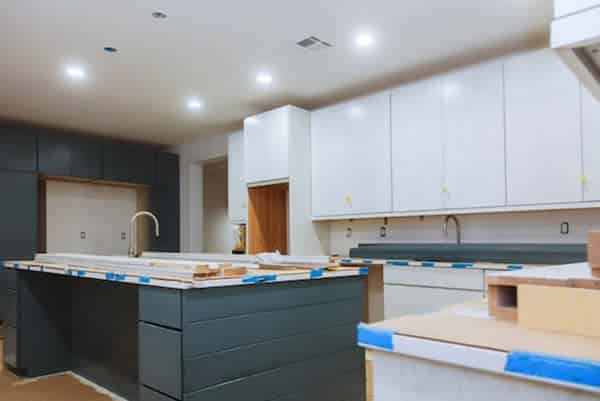 The cost of your cabinets depends on a variety of factors. The first thing to consider is the complexity of your kitchen and the quality and materials used in its construction. You'll also want to think about what style of cabinets you want–for example, do you like them to match an existing kitchen or be designed from scratch? Once all these things are considered, new custom cabinets could cost between $1,000 and $10,000+ per linear foot (LF). That said, there are ways for homeowners like yourself who want top-notch results without breaking their budget:
Factors That Affect the Cost of Custom Cabinets
The following factors determine the cost of custom cabinets:
Cabinet material. The type of wood you choose will greatly impact the price of your cabinets. Cabinets made from solid hardwoods, like maple or cherry, are more expensive than those made from plywood or particleboard (a composite material). However, they'll also last longer and look better over time–so if you can afford them, they're worth it!
Cabinet size and style. Smaller cabinets tend to be cheaper than larger ones because there's less material involved in their construction; however, if space is tight in your kitchen, then there may not be room for small drawers under each sink and cabinet doors that don't open across the front panel when opened fully–which could lead you down an expensive rabbit hole as far as purchasing new appliances goes!
Tips To Save On Kitchen Cabinets
You can do a few things to save money on your kitchen cabinets.
Shop around for the best deal. Different stores will offer different product prices, so it's important to shop around and compare costs before purchasing.
Be prepared to compromise on quality if you want something more affordable than custom-made cabinets. While this might not be ideal, it may be necessary if you're working with a smaller budget or limited time frame for your project (or both).
Look for deals on used cabinets–either at local secondhand stores or through sites like Craigslist or eBay–if you're willing to settle for less-than-perfect condition. You'll still get great value without breaking the bank!
Go With a Specialist:
Hiring a cabinet specialist is essential for remodeling your kitchen. They can ensure that your cabinets are built using high-quality materials and finishes, advising on style choices and guiding you through choosing hardware for each drawer or door. This will help ensure that everything matches seamlessly.
If you're looking to install custom cabinets in your kitchen, you might wonder how much it will cost. The good news is that Ultimate Cabinets & Interiors can help!
We have years of experience installing custom cabinets and know what it takes to ensure you get high-quality cabinets at a fair price. We can help you find the best materials, design your space with you, and even connect you with a contractor who will work with us to ensure everything goes smoothly.
If you're ready to learn more about our services or schedule an appointment, contact us today!