Kitchen Countertop Trends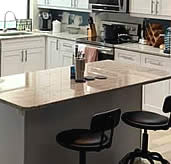 Kitchen countertops are among the most discussed features of any kitchen remodeling project due to their aesthetic and functional importance. Generally speaking, kitchen countertop choices are either considered for beauty or heavy use. For instance, if it's a professional chef's kitchen, then the choice of countertop can be made based on functionality such as heat resistance and food prep durability. On the other hand, if you are planning an updated look to your ordinary kitchen space, then aesthetics will be higher on the list while also trying to achieve some balance between form and function.
Trends Have Changed Over Time
In any case, trends have changed over time but certain materials remain popular. 2019 saw plenty of quartz countertops in kitchens around the world followed closely by granite/natural stone surfaces for there is no exact replacement for natural beauty that stone offers. Additionally, more people opting for "maintenance free" countertop options such as laminate which offers low-cost alternatives with great color options.
New Technology
This year however has brought a couple of up and coming solutions that involve engineered stones such as Dekton material which combines accelerated technology with sturdiness similar to granite but without its susceptibility to staining or etching from acidic compounds found in some kitchen items like citrus fruits or red wine spills. Additionally soapstone is another trending material due to not only its aesthetically pleasing finish but its resistance against tears and bumps when working around it during food prep activities mean less stress overall for anyone beginning new projects involving this particular kind of surface which many consider rustic yet elegant at the same time.
And let's not forget about Wood! Despite its fragility when exposed directly to liquids (except those coated ones) this natural product remains popular over high traffic places since it provides a great vibe full of character combined with timeless beauty hard do duplicate using artificial materials like concrete & plastic overlay surfaces.
In Conclusion
All in all, it could be said that no single trend surpasses the need for each individual person seeking favorable results during their remodeling projects so personal taste should really be top priority according preferences without looking into what others may think about them before making this important decision since ultimately living with it daily, makes all the difference in the world!
Want To Know More?