An outdoor kitchen can serve as an entertainment and a culinary oasis for a great open-air experience within the confines of your property. An outdoor kitchen is one of the best ways to augment the value and functionality of your property.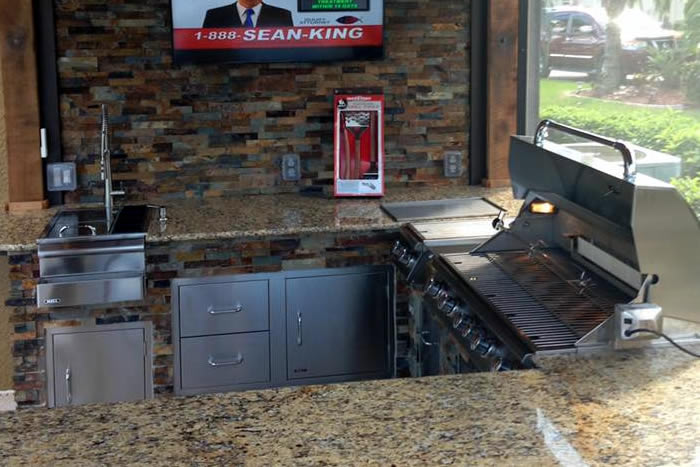 Here is what you need in an outdoor kitchen.
Cabinetry
Cabinetry lies at the very core of outdoor kitchens. You can install customized cabinetry from your material of choice including stainless steel, high density polyethylene, polymers or wood. The material and design is a statement of your lifestyle, preferences and refined taste.
Countertop
Countertops are vital for your outdoor kitchen since they provide space for all necessary food preparation tasks. You can enjoy the use of high-tech appliances on your countertop. All kinds of exotic materials are available for your personalized countertop including marble, stone and granite. You can even have a kitchen island in place as the center of your culinary operations.
Trash Pull-Out Cabinet
This is a pragmatic solution for keeping unsightly trash out of sight. It is easy to access and use. Just remember to clean it up every day.
Grill Hood
If your outdoor kitchen is covered, a grill hood can keep you safe from the fumes emanating from the grill.
Floating Shelves
If your outdoor kitchen has a wall, then floating shelves are a must-have for storage and added functionality. Condiments, spices, cutlery, crockery and other items remain within easy reach and are always in sight.
Sink
Instead of taking plates and other items inside for cleaning, you can do it right in your outdoor kitchen with a sink. A sink will make your outdoor kitchen fully functional and obviate trips inside.
Seating
The right seating arrangement and configuration can keep you and your guests entertained, relaxed and comfortable. Seating can encourage social engagement and ensure that cooks, guests, friends and relatives have a good time together in an environment as comfortable as the indoors.
Looking for the most fabulous outdoor kitchen designs for all kinds of budgets? We would love to assist you!
CALL Ultimate Cabinets & Interiors at 239.270.5145