Are you looking for a outdoor kitchen remodeling contractor? Have you finally decided to have an outdoor kitchen so that you can have more fun? It's a step in the right direction that will make your nights a lot more entertaining, but you need to carefully think about the size of the outdoor kitchen.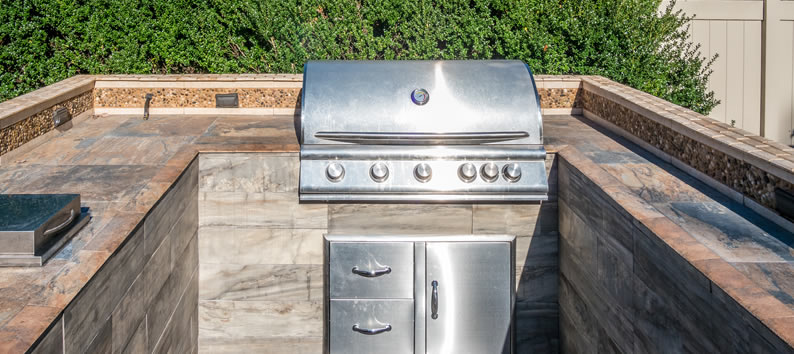 Review outdoor kitchen sizes in terms of the following:
Small (10 linear feet)
Essentials (13 linear feet)
Medium (16 linear feet)
Large (20 linear feet)
While assessing your outdoor kitchen's right size, it's advised to see it in the form of zones. To get the most value of your new cooking space, create spaces that solely focus on the food preparation, cooking, socializing, and dining. These zones' size depends on how you intend to utilize the space. According to experts, there are four functional zones:
Dry zone – Includes preparation areas and storage
Wet zone – Includes beverage tubs and sinks
Cold zone – Includes wine chillers, freezers, and refrigerators
Hot zone – Includes pizza ovens, side burners, and grills
It's worth noting that dry and hot zones are an integral part of any outdoor kitchen, regardless of how small it is in size. The wet and cold zones can be part of larger kitchen designs.
In larger kitchens, construct the zones such that movement is created for the main primary work triangle – grill, sink, and refrigerator – without any obstruction.
Also, avoid any attempt that undersize the areas of your outdoor kitchens – the idea is to ensure that they are big enough to entertain your friends and family.
Before you finalize the outdoor kitchen size, pick the amenities that are going to be the part of your outdoor kitchen. This can include a refrigerator, a sink, a side burner, and a grill. Create more than 15 inches of countertop space for each amenity. In this way, you are now enough space to set a serving platter. If a bartender or caterer is expected to use your outdoor kitchen frequently, give them at least 3 feet of working counter space.
Final Thoughts
Now that you know about the correct size of an outdoor kitchen, start with your kitchen remodeling processing. If you would like to discuss it with a reputable kitchen remodeling contractor in SW Florida.