Whether you're replacing your shower tiles or renovating the entire bathroom, remodeling can be an expensive and exhausting job. Here are some things that you should consider not doing when remodeling a bathroom:
1. Don't Skimp on Skilled Labor When Remodeling a Bathroom
Ah yes, the temptation of a DIY project… We've all been there. Bathroom remodeling is not as easy as it may seem when you watch YouTube tutorials. It is hard labor and dirty work. Hire a professional to do the job to ensure it lasts you longer than an amateur DIY project. A skilled worker can make your budget-friendly bathroom fixtures look expensive. No matter how expensive the fixtures, they will look cheap if not fitted correctly.
2. Don't Forget to Keep your Budget in Mind
Define your budget first, and do not exceed your limit no matter how tempting it may be. You will be presented with a wide range of options when selecting tiles, sinks, fixtures, etc. No matter how appealing they may be, if they are out of your budget, stop right there.
Take quotes from 3-4 companies before deciding on a contractor. This will help you analyze the current market rates and know if a company is demanding more or less than the average. Keep the sink, toilet, and showerhead where it is instead of relocating as that will cost a lot of money. Consider buying from a wholesale store instead of a high-end bathroom accessory store.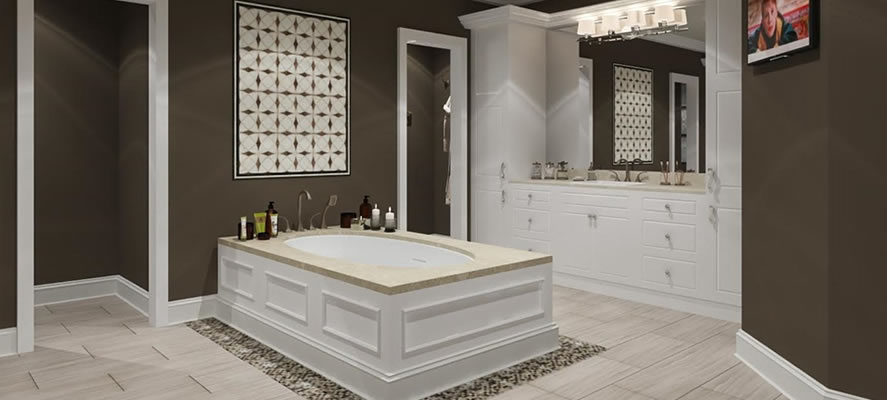 3. Don't Skip on Storage Space
Storage is a vital aspect of your bathroom that will make it look clean and organized. Consider the individual need of you and your family, and design the storage accordingly. A medicine cabinet and an elegant chest can make your bathroom functional and aesthetic.
4. Don't Skimp on Critical Elements of the Bathroom
While it helps to stick to a budget, don't cut down your cost on essential elements of the bathroom that get used the most. Faucets, showerheads, vanities, and other fixtures face rough use. Make sure that these fixtures have a lifetime warranty and are durable. Now you may be wondering where you can save up? Light fixtures perform almost similarly in the varying price options, and they are cheaper to replace. You can also stay minimalistic and cut on design or luxury costs.
5. Don't Rush the Process
Once you have decided to remodel your bathroom and have a clear idea of what you want, it can be tempting to get it done as soon as possible to see how your idea takes shape. Remember that rushing will not let you plan properly and can result in a catastrophe. Depending on the scope of your project, spend 1-3 weeks planning the project. Write things down, make a portfolio, and discuss your ideas with family and friends.
6. Don't Keep Changing your Mind
Proper planning will clear doubts and help you stick to your original plan. Second-guessing your bathroom design can prove costly, especially if you have already purchased the items and materials. More time can also mean a higher contractor bill. Be confident in your design and let the professionals do what they do best.
Remodeling your bathroom can be an exhilarating and satisfying experience.
Contact professionals now if you wish to remodel your bathroom effectively.