Great Kitchen Remodeling Idea's
Kitchen remodeling is a major home improvement project for the most functional space in your property. Hence, you should be aware of kitchen remodeling ideas that are worth it and won't cause you trouble later down the line. The very best kitchen remodeling ideas can help you sell your home quickly.
Here are some of the very best kitchen remodeling ideas and how they can improve your chances of selling your home at a premium.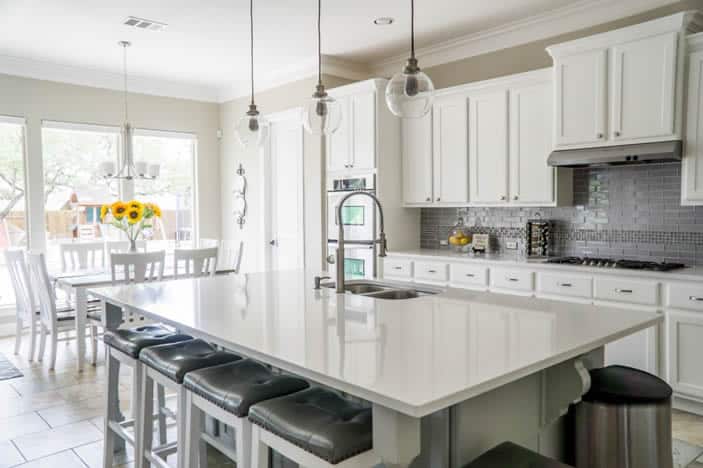 1. Open Kitchens Are Better
Breezy, airy and open kitchens can feel so liberating. This comfort is especially important for those who will be spending a lot of time in the kitchen. Thus, if your kitchen is open and full of light, you have a better chance of selling your property.
2. Light Shades for Cabinets
It is always safer and better to opt for light hues when talking about kitchen cabinets. The reason is simple; light colors impart a feeling of openness and brightness to people working inside kitchens. Together with bright lighting, they can actually make your kitchen look bigger than its real size. Dark colors might feel depressing and claustrophobic. Hence, they are just not worth the risk.
3. Countertops
Be careful with your countertop since the wrong kind can ruin your kitchen. Countertops provide a stable platform and working space for both users and machines. Besides functionality, they are essential for aesthetic appeal.
When in doubt, always go for natural shades of stone. You can never go wrong with hues that remind you of nature and soothe the mind.
Marble makes for an amazing natural looking countertop. It might cost more and require greater care to avoid staining, but it is an all-time classic that always remains in vogue.
Want something different? Why not peruse engineered quartz that come in the most awesome shades and colors. As the name implies, they are engineered for aesthetics and durability making them a fine alternative to marble.
4. Lighting
Lighting can make your kitchen look appealing and inviting while the lack thereof can feel depressing and ominous. It's fair to say that few people want their kitchen to resemble Batman's den.
Bright lights have several positive connotations. With dazzling lights, prospective buyers will feel more welcome. Good fancy lighting reflects the high level of due diligence and care on your part.
5. Small Details
Racks, pantries and extra storage are the seemingly minor details that can collectively create a huge impact. With functional features like cabinet-styled drawers, pull-out trash cans and soft touch closing mechanisms for cabinets, prospective buyers will certainly be impressed and more inclined to buying your property.
6. Appliances
One key purpose of a kitchen is to house your appliances. Stock up your kitchen with the very finest appliances to extract full value from this highly functional space. You should have energy star rated appliances. The appliance texture and design should match and complement your kitchen décor.
We can help you to understand the best kitchen remodeling ideas that will give you great satisfaction and help you to sell your home fast.