Bathroom remodeling can be a tricky business.
You need to make sure that it not only looks visually pleasing, but also functions well. Before you hire a bathroom remodeling contractor, take the following considerations into account.
1. Who will use it?
Who is going to use the bathroom? If it's for adults, a walk-in shower is a safer option. Another factor that you need to keep in mind is that certain flooring materials are more risky, and can cause adults to slip. Perhaps, a complete aging in place bathroom design is the best option in this scenario.
On the other hand, if you are renovating the bathroom for kids, a tub is more suitable.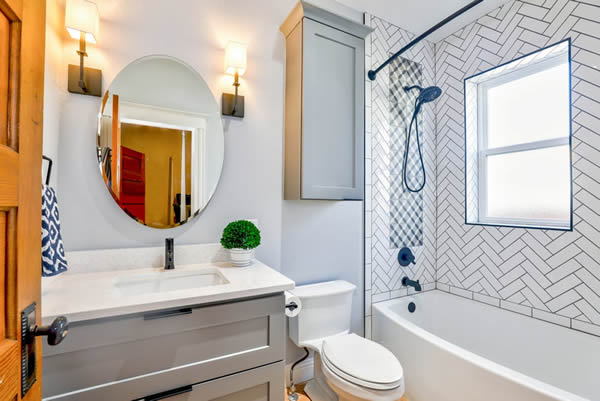 2. Is ventilation required?
No one likes mold and mildew in their bathrooms – proper ventilation can effectively neutralize both. Depending on your bathroom's size, consider installing ventilation fans. Moreover, they also make sure that bathroom mirrors don't clog up in the midst of hot showers, making face washing, shaving, and other routine bathroom tasks easy and simple.  
3. Do you need storage?
If you have enough storage outside your bathroom, there's no need for cabinets and shelves. On the contrary, without a big closet that can hold your toilet paper, extra towels, and other necessities, additional storage will have to be added in your bathroom. For that, you have to ask your bathroom remodeling contractor to design tower cabinets and shelves.
4. What bathroom fixtures do you need?
Today, there are plenty of options for bathroom remodeling, especially fixtures that offer a terrific combination of style, comfort, and efficiency. Some of these include heated toilet seats, high-end showers, and comfort-height toilets.
5. How does the remodeling process look like?
Since bathroom remodeling affects your entire home, be specific. Ask your contractor about how they will work, such as at what time will they start and end their work. Will they clean up the debris and garbage as well? How do they plan to protect your home from any kind of damage? A complete overview of their process would keep you free from any future troubles.
6. Is the contractor licensed/insured?
Any professional that works on your bathroom must possess the relevant licenses and insurance. Insurance is crucial because it protects you in case a worker gets hurt on site or when your home is damaged during remodeling.
7. Can the contractor provide references?
A reliable bathroom remodeling contractor will not hesitate to provide references – ask them to provide at least three. Find out about the contractor's work process and see whether their clients are satisfied.
8. Who is the best bathroom remodeling contractor near me?
Now that you have a basic idea of how bathroom remodeling works, you can send us a message and ask any question related to bathroom remodeling.
Ultimate Cabinets & Interiors @ 239.270.5145