An outdoor kitchen is one of the best utilities to have at your home during the summertime. So if you have been thinking about getting yourself an outdoor kitchen for quite some time now, now is the perfect time to get it done.
However, it is essential to note here that if outdoor kitchens are not measured accurately for their size, they can take up most of your backyard, and you do not want that. In fact, a perfectly sized outdoor kitchen should sit well in one corner of the garden and still leave ample space.
So how do you keep the outdoor kitchen minimalist and tidy while still enjoying space in your backyard? Let's break it down for you!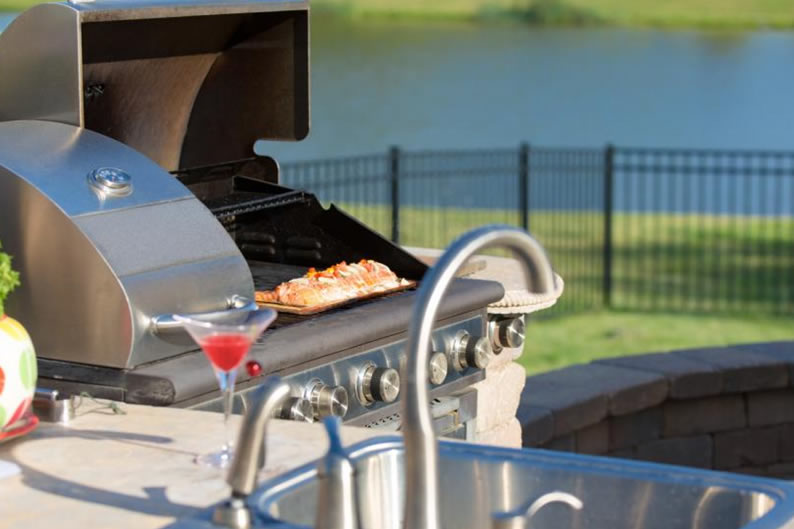 Determining the Best Size of an Outdoor Kitchen
– Top 3 Things to Keep In Mind
While mostly, an average size of an outdoor kitchen would be somewhere between 100 and 400 sq. feet. This makes the surface area 10×10 by 20×20 feet in width and length leaving ample space to design a functional kitchen while leaving plenty of space for the backyard.
However, with a different dimension of the home or depending on the outdoor area, here are the top three things that you have to keep in mind when deciding on the size of your outdoor kitchen:
1)   Considering the Total Space
First things first, you have to consider the total space you have that you would be acquiring and using for your outdoor area. You don't want a cramped kitchen that isn't functional or a large one that hardly serves the purpose and takes up all the space. So it is better if you take some expert recommendations on this matter and finalize after keeping all things in mind.
2)   Deciding What You Will Use Your Kitchen For
It is crucial to decide on the fact that for what you will be using in your outdoor kitchen. As a kitchen serves multiple purposes alongside the obvious, you will probably already have an indoor kitchen. So before you get on with the renovation, choose if it will be a hot kitchen, a cold kitchen, a prep kitchen, or simply a functional kitchen used as a guest entertainment spot.
3)   Analyzing Your Budget
Lastly, you have to consider your budget. There is no point in being hell-bent on a fully-equipped, functional kitchen if it doesn't reside within your budget because you already have one indoors. Instead, stay within your budget range and get yourself a minimalist spot outdoors that serves its purpose at parties and in the summertime. This way, you will have an outdoor kitchen but not go over budget.
In Conclusion,
Outdoor kitchens are fun and functional. Get yours completed in time for a pool party or a summer barbeque with friends. In fact, if you let Ultimate Cabinets & Interiors take care of refacing kitchen cabinets for you, you'll be promised exceptional quality, satisfaction, and attention to detail, all within a reasonable price range for your outdoor kitchen.
So what are you waiting for? Call us today to get started!