How can you tell quality kitchen cabinets from ones of subpar variety? You will need to know what to look for in kitchen cabinets to make the right choice.
Here is how you can settle for the best kitchen cabinets.
Quality Kitchen Cabinets Have Soft Close Hinges
The hinge is the most important functional component of your cabinet. It should be durable so that it can work seamlessly without a fuss for years. It is a joy to open and close the cabinet with.
The hinge itself should be constructed of a high-grade material like nickel-plated quality steel.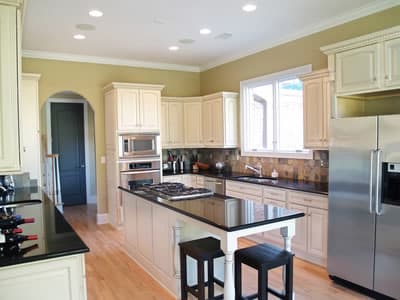 There is far more to great hinge design than what you might think. There should be room for expansion and contraction for all moving and rotating parts in the hinge. Why? Because of the changing seasons. During summers, parts will expand, while during winters, parts will contract due to temperature change. You can find this in 6-way adjustable hinges for cabinets.
These hinges are manufactured with high precision for flawless operation.
Avoid 4 way hinges since these are often subpar and usually do not carry a lifetime warranty.
Soft Close Drawer Glides
Soft close glides are so called since they resist slamming and the ensuing jarring noise. Quite often, in our exuberance, we slam the drawer shut with too much force. The soft close dampening mechanism will absorb the impact silently and save the day.
Your cabinet should have soft close drawer glides so that opening and closing cabinet drawers is a breeze. Besides being smooth and low friction, drawer glides should have a robust construction for heavy duty use since they will be bearing large loads stored within the cabinet.
Steel guides with ball bearings should do the trick. They should have a good load rating for reliable use. This rating should be 90 pounds minimum.
Without such a glide mechanism, the drawers might get stuck or take a lot of effort to open or shut.
Dovetail Joints
The weakest part often succumbs first. In the case of your drawer cabinet, it is often the notched butt joints and staples that hold the drawer's front face. The drawer front face could misalign or even fall off altogether. That's not how you want your drawer to be. What you need is better construction.
You can get that with dovetail joints since these robust joints have interlocking teeth to grip your drawer front face firmly.
Warranty
A good warranty does not always imply the best quality. But it does show the confidence of the manufacturer in their product. So your cabinet should have a lifetime warranty. Of course, the major benefit is that you will not lose cash should anything go awry.
Avoid Particleboard
Do you want to avoid frail cabinets that sag under heavy loads? Then you will do very well without particleboard cabinets. Avoid this material like the plague if durability is what you seek. It's only advantage is low cost. But you do get what you pay for.
Particleboard also suffers from another problem. They are very weak around joints since particleboard is inherently flimsy. So repairing particleboard is difficult and leads to weaker material around replaced joints.
All-plywood cabinets are your answer for strong and durable construction that will hold well under heavy loads. Unlike particleboard, plywood is also more resistant to moisture.
CALL ULTIMATE CABINETS & INTERIORS @ 239.270.5145