No matter how great your kitchen, there will be a time when you will have to renovate it  for several reasons that include greater space, improved functionality, better décor and renovation, among others. 'How often should you redo your kitchen?' is an important question for homeowners.
With a job well done, your kitchen may be able to last for around 10 to 15 years before it needs renovation, although under certain circumstances, the time can be shorter.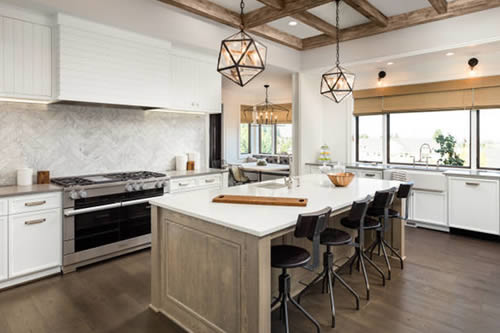 To understand when you should renovate your kitchen, you should consider the following factors:
Inspection
A quick visual inspection of your kitchen will give you a good idea of whether or not it is time to renovate your kitchen. Does your kitchen look old? Have the tiles cracked? Is there water damage under the kitchen sink? Are your drawers and cabinets damaged? Are the appliances outdated?
If you have answered yes more than once to one of these questions, then a kitchen renovation may be due. An old looking kitchen is one of the key reasons for renovation.
Is It Outdated?
Does your kitchen space feel outdated? Kitchens are one of the most crucial functional spaces in your house. So you must ensure that they are up to date. Kitchens have become larger over time, which is a good idea since you need space, room and functionality for making great food. One or more members of your household will be spending many hours of their daily routine in their kitchen so a large kitchen is one of the best gifts for them.
Several things have improved over the years, including cabinets, countertops and kitchen islands. You should look at new models of these essential kitchen features to find out if they are better for your kitchen. Besides looking fabulous, they have easy to clean surfaces and greater durability.
Modern kitchens now have ample space for kitchen islands, peninsulas, sitting space, dedicated areas for appliances and beverage preparation (like coffee) and other features.
A kitchen remodel can do wonders for giving an entirely brand new feel to your humble abode. With enough space in your kitchen, you can cook with great ease while also interacting with guests, friends and family. The right kind of renovation can turn your kitchen into more than just a cooking space – it can transform your kitchen into an entertainment and leisure center.
You can expand your kitchen space for accommodating fantastic new appliances that will greatly improve your lifestyle and cooking experience. A beautiful new kitchen can also be the best home improvement project for radically changing the look of your home.
Damage
Since kitchens have a tough environment and involve plenty of movement and hard work, these areas are also prone to damaging and wearing out more quickly than other parts of your home. If there are damaged tiles, water leakages and a generally worn out look in your kitchen then it is time to renovate or remodel.
We have built fabulous new kitchens for our esteemed clients who are delighted with the quality of our service. We are sure that you too will be pleased with our service quality and the brand new kitchen that you deserve.