Who doesn't love a fancy bathroom? Some chic tiles, a large mirror, and a big bathtub are enough to make anyone feel regal. As great as these bathroom remodeling ideas sound, not everyone can afford it. But that doesn't mean they should be deprived of a fresh and stylish bathroom.
Therefore, we bring you clever bathroom remodeling ideas for remodeling on a budget. Keep reading to find out what they are.
Opt for Vinyl Flooring Over Real Wood
Flooring can make a big difference in turning an old bathroom into a new one. However, expensive tiles and real wooden flooring can be quite expensive as well. So, when you're remodeling on a budget, there are two very important words you should know: cheap lookalikes. Instead of splurging on expensive real wooden flooring, you can get inexpensive vinyl flooring with the same pattern. Not only will it look exactly like real wood planks, but it'll also cost you way less.
Paint Your Wooden Floor
If you already have wooden flooring, but it has gone through some serious aging and decay, you might be tempted to rip the whole thing out and install new boards. However, again, that can cost you quite a bit. Rather, you can sand it down slightly and paint over it to give your floors a fresh and even a brand-new feel. And that too, without spending much at all.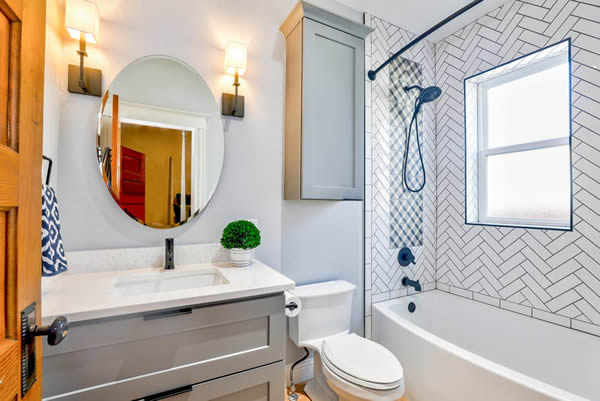 Update the Fixtures
If you thought bathroom remodeling ideas only consisted of major plumbing replacements and complex floor work, you would be surprised to know that that's not all there is to it. Even doing something small as updating your bathroom fixtures can make a big difference. You can change the doorknobs, faucets, towel hangers, etc.
These small changes might not seem much, but they can spruce up your bathroom for a very low price. Just make sure you get the fittings done by a skilled company to avoid any leaks and troubles later on.
Refinish Rather than Replace
Replacing your plumbing such as bathtub or shower place is not only expensive but can take a lot of time and involves a lot of destruction as well. A much better and inexpensive option is to refinish and reline the bathtub. Refinishing the bathtub takes care of any stubborn stains, cracks, and other faults to give it a brand-new look without actually spending money on buying a new bathtub.
Reuse Old Furniture and Fittings
Another way of remodeling on a budget is to reuse old furniture and fittings. It can give your bathroom a new theme and even some character. Add old light fittings and vintage mirrors for that classic and vintage bathroom feel.
Conclusion
Ultimately, it also comes down to who you choose for remodeling on a budget. The wrong company can make the most expensive of tiles look bad in your bathroom due to inaccurate installation. Similarly, the right construction and interiors company can make even inexpensive tiles look amazing with the proper groundwork and installation. So, make sure you choose wisely!