There is nothing quite like cooking and eating alfresco when the weather is right. These outdoor kitchen design ideas will certainly help you to truly live the joy of outdoor cooking, eating, and partying in the comfort of your own backyard. Make every weekend an exhilarating outdoor escapade with these amazing outdoor kitchen design ideas.
Outdoor Kitchen Barbecue Grill Station
A fully functional and thoroughly equipped barbecue grill station is exactly what you need for the ultimate grilling experience.
Bedeck your BBQ HQ with a dark wood pergola. Your station can boast adobe-style classic stonework for that timeless rustic appeal. You can apply an orange-yellowish hue to instill a desertscape look in your outdoor kitchen.
In addition to darker accent countertops, you should also install a griddle and sink to have all that you will need for your outdoor kitchen.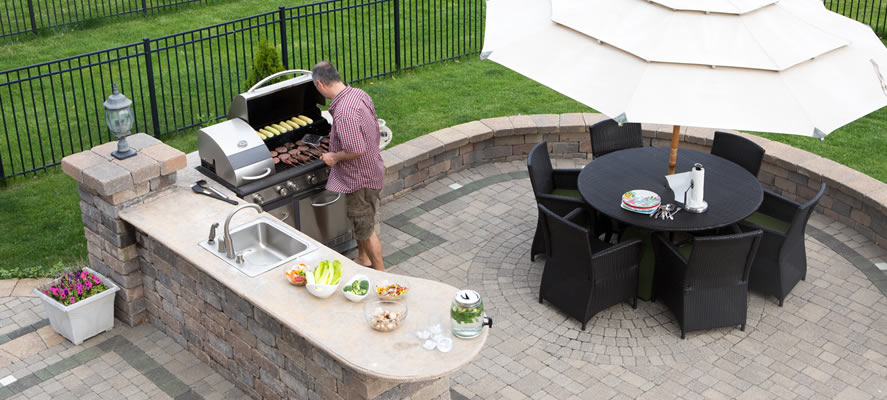 Clay Pizza Oven
The clay pizza oven is vital for that one food that few in this country can live without – pizza. Let's face it, life is not worth living without pizza. So why go without a clay pizza oven? Make artisan-style cheese-filled masterpieces with this wood-fired oven.  
Outdoor Fireplace
An outdoor fireplace is a perfect solution for a warm, cozy environment that you can relish with your loved ones. Basque in the cozy comfort of an outdoor fireplace while storytelling and reminiscing with friends and family. An outdoor BBQ on a cool chilly night is just not complete without an outdoor fireplace in the background for that warm sense of delightful comfort.
Refrigerated Drawers
They might look like ordinary cabinet drawers except they are high utility. Imagine the joy of having drawers that you can pull out to reveal rows upon rows of refrigerated ice cool drinks. With refrigerated drawers, you will have all the cool drinks that you need to regale and party with friends and family.
Outdoor Sofas and Furniture
Who says that the great outdoors has to be rough? Install sofas, chairs, and furniture to bring the comforts of your home to the great outdoors. A sofa system with big and small sofas can provide a comfy setting for your friends and family to socially engage and interact in style in the open air.
Rustic Setting
A gable roof embellished with recessed lighting can bring out both the contemporary and rustic appeal in your outdoor kitchen. A stone setting is what you need for a complete eclectic feel. Vicker furniture will complement the ambiance perfectly.
Outdoor Bar
The outdoor kitchen can sport a bar-like feel. Instead of visiting a real bar, you can just chill out in your very own backyard-based outdoor bar. Install a countertop or island together with bar stools to orchestrate a bar environment.
Dining Space
A decent outdoor dining space can help you to enjoy the best of both worlds. With a thoughtfully designed outdoor dining space, you will relish all the comforts and luxury of alfresco dining without missing out on your indoor dining hall.
You can make use of these outdoor kitchen ideas to make the best use of your backyard real estate.