Contrary to popular belief, kitchens confined to a tiny corner don't have to be so bad. If you redesign your small kitchen in a clever and effective manner, you can say goodbye to claustrophobic cooking. Here are 7 small kitchen remodel ideas that we urge you to consider to make your cooking space classy, chic and completely functional.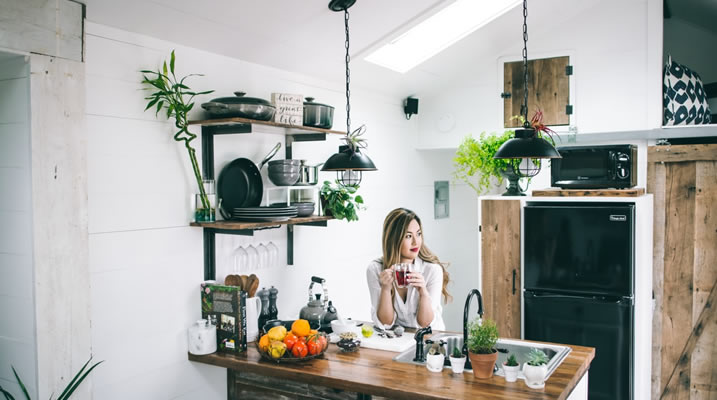 1. Organize Your Cabinets
With small kitchens, making use of empty spaces becomes even more important. Add a few over head and plenty of bottom cabinets in your kitchen, and organize them so you don't waste any space. Stock up on organizers, baskets and risers to maximize your kitchen storage.
2. Keep a Kitchen Island or a Floating Table
Dining tables are a big no when it comes to small kitchens, but what works are kitchen islands or floating tables. A rolling kitchen island is a great option in a small kitchen because you can roll it to the kitchen or to the dining table. You can even opt for a foldable floating table inside the kitchen that you can fold out when you want to use it.
3. Incorporate Patterns
Another small kitchen remodel idea is incorporating patterns. Patterns usually make a space livelier and spacious. They can be put up on walls and even the floor to give the kitchen a more aesthetic and open look.
4. Add Greenery
Plants liven up any space and make it look all the more beautiful. Consider adding plants on top of places like your fridge, or hang them from the ceilings.
5. Hang Your Kitchenware
When it comes to small kitchen remodel ideas, we recommend hanging your kitchenware like pots and pans on an industrial pot rack. You can hang the racks above your cabinets or on an empty wall in the kitchen. It not only makes them accessible, but also frees up room in your cabinets for other essentials.
6. Install Custom Hardware
Custom hardware helps to complete the look of your kitchen. Considering the design options available, hardware is not only convenient but also adds to the aesthetics of the space.
7. Knock Down Walls
Contractors usually knock down the wall when they are remodeling small kitchens. This helps in creating more space, ultimately transforming it into an open space.
So, did you like any of our small kitchen remodel ideas? If any of these options appealed to you, consider hiring Ultimate Cabinets & Interiors. We can help transform your kitchen into a chic space.
CALL Ultimate Cabinets & Interiors at 239.270-5145