Whether you want to renovate or want to know what flooring to install in your new kitchen and bathrooms, deciding the best flooring for both requires much thought and attention. This is because the floor of our bathrooms and kitchens deserve extra care. Unlike our bedrooms, the kitchen and bathrooms are subjected to a lot of moisture. And the steam from the shower and cooking can also raise the humidity levels there.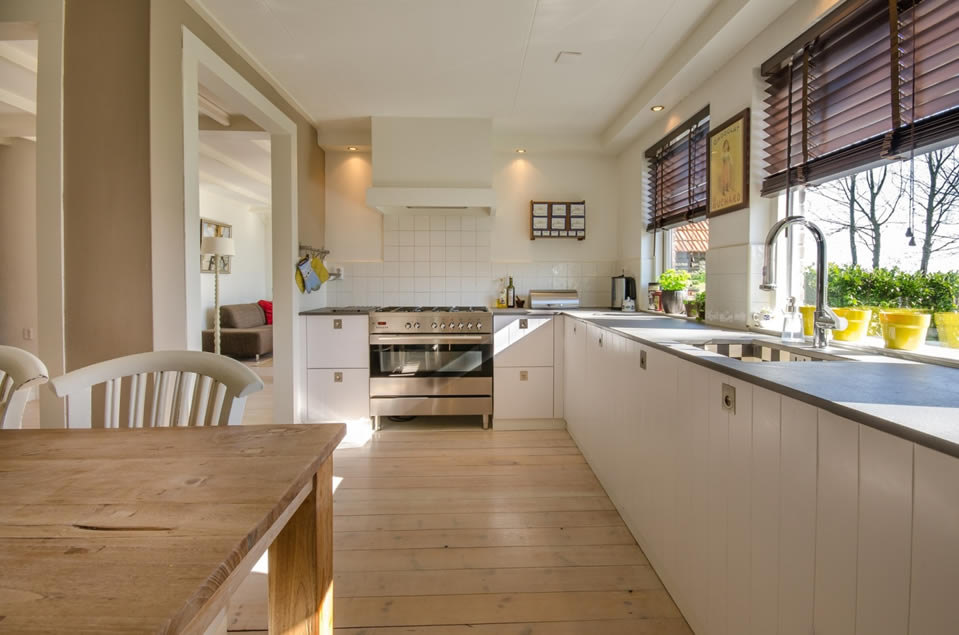 For these reasons, the flooring options for kitchens and bathrooms are different from the rest of the house. Here are some of the best options you can choose from.
Best Flooring for Kitchens and Bathrooms
Just because the flooring for kitchens and bathrooms is different from the rest of the house does not mean that you have a limited flooring option. Here are some of the most fantastic flooring you can consider perfect for both kitchens and bathrooms.
Ceramic Tile Flooring
Ceramic is a material that is made from clay that has been pressed at super high temperatures. The result is a uniform and luxurious looking material that is smooth to the touch. This flooring adds a touch of sophistication, whether it is for the kitchen or bathroom. It comes in various shapes, sizes, and colors. You can even find ceramic that replicates the look of stone without the steep cost and fragility.
Porcelain Tile Flooring
Another affordable and one of the best flooring for kitchen and bathrooms is undoubtedly porcelain. It is also one of the most common types of flooring for bathrooms because they are resistant to high moisture and humidity levels. Porcelain tiles do not absorb any type of moisture, are durable and affordable.
Laminate
Unlike the flooring options in this list, hardwood is a big no-go for bathrooms and kitchens. Though they look elegant, they can absorb high moisture levels and can be vulnerable to mold and mildew. If you still want something that resembles the look of hardwood, then laminate is your best option. It offers the same elegance but with high resistance to moisture and water. What's more, is that this flooring option is also incredibly stain-resistant and easy to clean.
Vinyl Plank Flooring
Much like laminate, vinyl flooring is also one type that can resemble luxurious and elegant-looking materials. For example, stone and wood. Since you cannot install wood, you can get vinyl plank flooring that resembles it but is water-resistant and durable. These floors look so much like wood that you will likely not be able to tell the difference.
Vinyl Sheet Flooring
Similarly, this is also the best flooring for kitchen and bathrooms because it not only resembles hardwood but is also easy to maintain and clean. Sheet flooring does not have any gaps or crevices in between. Hence no dust or debris gets inside. As a result, you can easily sweep and clean the flooring.
Final Words
On a final note, choosing the best flooring for kitchen and bathrooms entirely depends on the look you prefer, your budget, and how much you can maintain the flooring. If you require more guidance, don't hesitate to reach out to Ultimate Cabinets and Interiors, the leading experts in home remodeling and interiors.