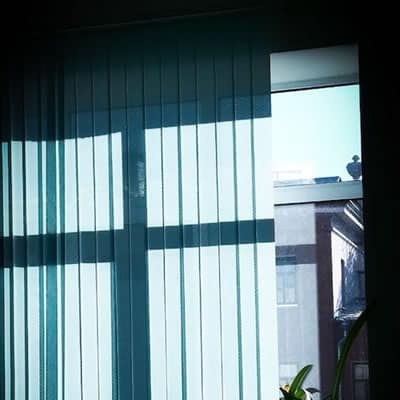 Vertical blinds are a classic window treatment that add style to a space. They're also easy to install yourself, so if you have the right tools, you can save money by doing it yourself. But are vertical blinds still in style?
Yes! We'll explain what makes them work—and why they're still a good option for your home.
Vertical Blinds Can Still Be Stylish.
Yes, vertical blinds can still be stylish. These window treatments have a wide range of options and come in various colors and patterns that you can use to create a cohesive look with other window treatments and the rest of your home decor.
Vertical blinds offer privacy and light control, making them an ideal option for any room in your house or apartment. You can also choose from various materials and styles, such as cordless or motorized lift systems and fabric materials like wood slats or faux wood blinds that add warmth to any space.
And since vertical blinds are made from durable materials like vinyl or faux wood, they're easy to clean too!
They Offer a Lot of Light Control
Vertical blinds are a versatile, cost-effective option for controlling light and privacy. They can block out light and heat or provide quiet and privacy in your home. If you have pets or children that need to be contained, vertical blinds are a great choice because they're easy to close without pulling cords or dealing with strings that could tangle around fingers.
They Can Be Used to Improve Sound Absorption.
If you're looking for a way to improve your home's sound absorption, then vertical blinds are a good option. They can block out noise from outside, inside, and even noisy neighbors. This makes them perfect for people who live in apartments or have noisy roommates.
In addition, they're also great at blocking noise from the street below if you live on an upper level of an apartment building and want quiet during sleeping hours (or any other time of day).
●    It's Easy to Mix Them with Other Window Treatments.
If you're looking for a way to add texture and interest to your room, vertical blinds are a great option. They can be used as room dividers or as a pattern on the wall. You can also use them as a backdrop behind a sofa or chair in your living room, making it easier to mix them with curtains and other window treatments such as roman shades or roller shades.
●    They Offer Decent Privacy and Room-Darkening Options.
Vertical blinds are usually made from various materials, including artificial fabrics and vinyl. Some vertical blinds have a light-blocking material lining the slats, which makes them completely opaque. Others have a more translucent coating that allows some light to pass through.
In addition to varying opacity, vertical blinds can also vary in how much they block natural light; some are lined with an insulating material, while others feature lightweight design elements that let more sunlight filter through.
Vertical blinds are a distinctive option for your home and can be used to add style and personality. They are typically vinyl or fabric, with each panel rolled up or down by a wand that controls the slats.
Vertical blinds have many benefits over other window coverings. They're easy to install and offer more control over how much light comes into your home than traditional horizontal blinds do. They're also great for adding privacy in rooms where you need it most—like bedrooms, bathrooms, and offices—without sacrificing style or function.
Conclusion
Vertical blinds are a great choice for anyone who wants to bring style into their home. They offer a lot of light control, making them perfect for rooms with lots of windows or just for people who want to open up the blinds on hot summer days without letting in too much heat. They're also easy to mix with other window treatments because they don't take up much space when closed off as curtains do. And since there are so many different colors available today, it's easy to find something that will match your decor perfectly!
If you're planning on switching out your window dressings this season, or if you want to take advantage of the added curb appeal that new modern vertical blinds will give your home, contact Ultimate Cabinets and Interiors today!