Kitchens and bathrooms are integral parts of your home. Hence, they must be updated regularly to stay in style and functional! Due to advancements in technology and changes in lifestyle, homeowners are ditching the traditional designs and going for more modern looks.
 If you're also tired of your old bath and kitchen and want to amp your home style, then consider these contemporary bath and kitchen renovation trends.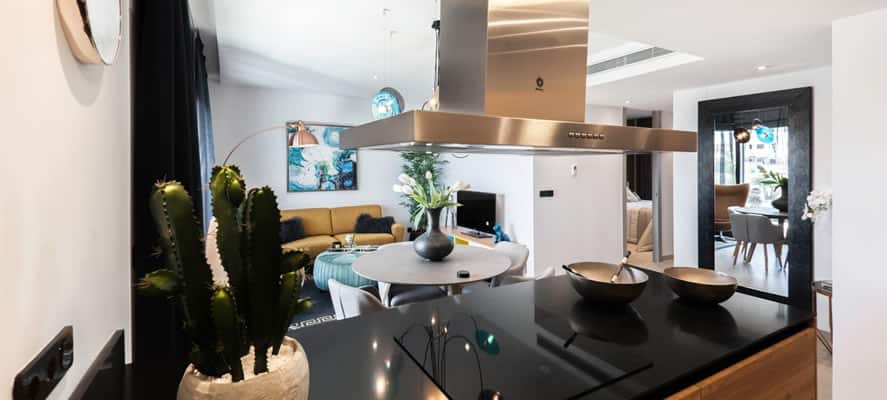 1. Bathrooms & Kitchens of the Future
Smart bathrooms and kitchens are becoming increasingly popular this year. With seat warmers, automated lid openers and taps, the modern bathrooms are completely high tech. These baths even have automated sinks and showers for added convenience. These contemporary baths are now considered more like personalized spas instead.
Technology has also revolutionized kitchen design. Sensors, gadgets and automation are the three latest technologies that are a must in your kitchen.
2. Ditching the Classic White & Entering the Dark Side
White cabinets and baths are a thing of the past and dark bold looks are in style. Dark colors, such as navy blue, plum and emerald green, are becoming more and more popular in kitchens and bathrooms because of the premium and luxurious feel they provide.
Many homeowners are going towards the dark side and opting for pops of color as well. For a contemporary bath and kitchen renovation, make sure you don't go overboard with the dark colors, as that can make the space gloomy and depressing.
3. Hints of Wood
As dark colors take center stage, wood accents have also become popular, as they complement them. Home owners are now using ceramic tiles that mimic the look of wood instead of actual wood itself. This gives the warm look of the wood but with all the benefits of a hard ceramic floor, such as better maintenance.
4. Smart Storage
To counter the many storage challenges that come with traditional baths and kitchens, homeowners are adopting smart storage techniques in their contemporary bath and kitchen renovations. Some of these techniques for the kitchen include appliance garages, dividers, and waste basket cabinets.
Compact storage in bathrooms is being used to reflect the more minimalist lifestyle trend. Hidden cabinets and shelves help de-clutter the area, making it an open and clean space.
Final Thoughts
These trends of the modern home combine functionality with aesthetics to create a more livable space that is classic and chic. Thus, these trends are ideal to consider if you are thinking about bath and kitchen renovations.
If any of these trends appeal to you and you wish to have them incorporated in your bath or kitchen, then consider hiring Ultimate Cabinets & Interiors. We can help you upgrade your traditional bathroom or kitchen space. Reach out to us here for your bath and kitchen renovation now.