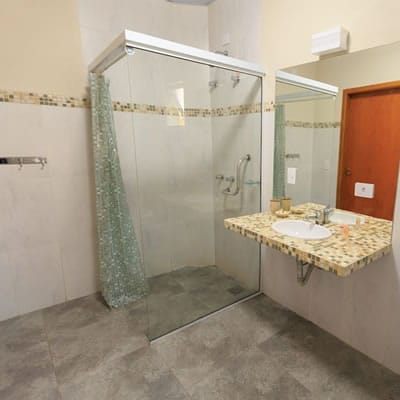 When it comes to remodeling a bathroom, there are a lot of decisions to make. It's easy to get overwhelmed with all the options, but if you start from the basics and build up from there, you'll be able to stay on track without spending too much time searching for ideas.
Choose Your Style
When remodeling a bathroom, the first step is to think about what style you want. You could go with something classic and elegant, like Louis XV, or you would prefer something more modern and sleeker, like Art Deco. Whatever your taste may be, you must choose one that fits your home and lifestyle.
Choose Your Fixtures
Choosing the right fixture can be a tricky process. It's important to consider the functionality and maintenance of each fixture you're considering and its overall appearance. You want something that will be easy to clean and maintain, durable and long-lasting (so it lasts longer than your bathroom renovation), energy efficient, stylish, and complement the rest of your bathroom—not just one or two specific elements.
Choose Your Material
The most popular material for small bathroom remodels is ceramic tile, which comes in an array of colors, styles, and textures. Ceramic tile is relatively inexpensive, easy to maintain, waterproof, and durable. Some materials are more difficult to work with and need more maintenance, while some are low-maintenance and easy to install.
Get A Quote on Demolition.
The biggest mistake people make when remodeling a bathroom is not getting a quote on demolition. Not only can the cost of removal surprise you, but it's also one of the most important parts of the project, as removing existing walls and fixtures will determine how your new bathroom fits together. If this step is done poorly or rushed, it can lead to problems down the road, like a door that was supposed to open out now swinging back into the room.
Get A Price on Plumbing Work.
Find out how much the plumbing work will cost. Find out if you need a permit for your project (if so, talk to your city or county planning department). Ask if there are any special considerations that might affect pricing. Get at least three bids, which should give you some idea of what will be involved in your job.
Get A Price on Electrical Work.
You'll need to contact your local electrician to get a price on electrical work. They'll be able to give you an estimate based on the scope of your project. To save time, ensure you have all the materials necessary for them before they come out so that they can tell you whether or not it's feasible in terms of cost and time.
Select Materials for The Floor, Walls, And Ceiling.
Consider how the room will be used in the future and ensure that material choices won't make it harder for others (especially children) to maintain later on down the road.
Choose A Countertop, Vanity, And Sink.
The most important thing to remember is that the countertop and sink are designed to complement each other. The countertop, which is the flat surface where you put your stuff, will be right under your sink. That's why it's called a "countertop." If you have a smaller space or are going for a minimalistic look, you can get away with having a single countertop—you don't need one for each side of the sink.
Find A Toilet That Fits Your Budget and Size Requirements.
The toilet is one of the most important elements in your bathroom. It's important to ensure that you get a toilet that fits your size and budget requirements.
To find a toilet that fits your size and budget requirements, look at bathrooms online or at home improvement stores in person. You can also ask an experienced plumber for advice on what kind of toilet would suit your needs.
Decide On Lights and Fans.
The lights and fans in your bathroom are a huge part of the overall design and function. There must be sufficient light near sinks and mirrors so that people don't have to strain their eyes when applying makeup or shaving. Use dimmer switches so you can adjust the brightness of your lights depending on your needs.
Conclusion
When it comes to remodeling your bathroom, you want to ensure that you're starting from the ground up and building a space that will last for years. That means starting with the basics, like picking out fixtures, materials, and finishes. It also means getting quotes on demolition, plumbing, and electrical costs before moving forward with any plans. This way, you can make sure everything is within budget before putting too much money into this project!
Bathroom renovation shouldn't be as difficult or expensive as some people would suggest. In fact, if you trust Ultimate Cabinets & Interiors with your bathroom makeover, you'll be certain of receiving work of the highest caliber, satisfaction, and attention to detail—all for a fair price. So why are you still waiting? Call us right now to get going!