Should I reface or replace kitchen cabinets? Since kitchen cabinets are one of the most prominent features of your kitchen, you may think about renewing them at some point. As time passes, you may change kitchen cabinets as they start to wear down or because you just want a change of scenery. Whatever the reasons, you should certainly look into replacing vs refacing kitchen cabinets to make the best decision.
Cabinet Refacing
Basically, if you are on a tight budget, you will do better with cabinet refacing. With this option, you can transform the exterior of the cabinet door to give it new color and texture without incurring heavy expenses. The basic structure holding cabinet doors will not be replaced with this option. Any geometric designs engraved on your cabinet doors will also remain unchanged.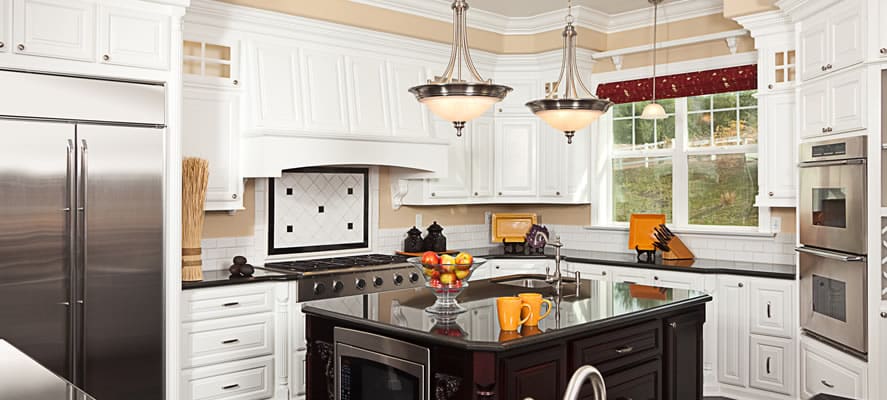 In short, you are simply changing the color and refreshing the exterior of cabinet doors in your kitchen with cabinet refacing. Not only is this method cost effective and ideal for strict budgets, but it may also be sufficient if you simply want to change the exterior of your cabinets and not the design or structure.
Bear in mind that the refacing option is not available for all sorts of materials. Materials that are not suitable for refacing will need veneer for a change to the surface. If that is not worthwhile, you may elect to install fresh new doors instead.
Cabinet refacing jobs are shorter in duration, meaning your kitchen will not be out of operation for too long.
Cabinet Replacing
Cabinet replacing, on the other hand, may be suitable if you want a full transformation and are willing to pay more. If you do not like the current shape and design of your kitchen cabinets or prefer a completely new design that you can afford, then cabinet replacing could be right for you.
You may also want a quality cabinet replacement if you feel that your current cabinets have poor construction due to bad workmanship.
So while refacing just changes the looks, a replacement can transform your cabinets and your entire kitchen as a result. Despite higher costs, cabinet replacement may be the next best thing to a kitchen renovation. If you want to transform your kitchen ambiance while saving money, you may want to opt for cabinet replacement rather than a full kitchen renovation. Cabinet replacement may be a great way to change the look and feel of your kitchen since cabinets are the most fundamental and visible feature of your kitchen.
Bottom Line
Your cabinets can make or break your kitchen. Thus you should get an expert opinion on replacing vs refacing kitchen cabinets. Experts can give you good advice on whether you need to reface or replace kitchen cabinets based on your budget, lifestyle and preferences. Ultimate Cabinets & Interiors can guide you on the costs involved and give you a better insight into the pros and cons of cabinet refacing vs replacement.
Is It Worth Refacing Kitchen Cabinets?
Refacing your kitchen cabinets can save up to 50 percent compared to the cost of replacing them. However there are pro's and con's to refacing vs replacing them entirely. Call Ultimate Cabinets & Interiors for a consultation.
Are White Kitchens Going Out of Style?
White kitchen cabinets are on its way out in 2020 although they do provide a light, airy environment and are still popular in smaller kitchens to avoid looking closed in and small. We are now seeing deep blues and greens as a popular choice for creating a warm, inviting environment.
Are Oak Cabinets In Style for 2020?
In recent years you're going to find kitchen cabinets are becoming more colorful providing a warm feel! Wood stained kitchen cabinets are still popular in more traditional kitchens, but gray, two-toned and even blue cabinets are on the rise.